孔力伯長女士感恩追思禮拜
Homegoing Celebration for Elizabeth Kung
我們敬愛的孔媽媽已於2021 年12 月9 日回歸主家。由於目前因Omicron導致的疫情嚴重, 為了顧慮參與會眾的健康,孔媽媽家人決定將安息禮拜從實體改為網上直播。孔家非常感激大家對孔媽媽的愛心和支持,也在此衷心感謝當日須要來參與服事的弟兄姐妹。願我們的主在我們紀念和慶祝她的一生時得到榮耀!
Our beloved Kung mama has gone with the Lord on December 9th, 2021. Because of the impact of Omicron, and concerns for the health of our dear brothers/sisters and friends, the Kung family has decided to move the service to real time streaming ONLY. The family truly appreciated the love and support for Kung mama from everyone, and is very thankful for those who are committed to help them conduct the service. May our Lord be glorified as we remember and celebrate her life.
安息禮拜將於1 月22 日週六上午10 時30 分在網上(YouTube)直播。
The service will be held on Saturday, January 22, 2022 at 10:30am through real time streaming only. The link of the YouTube streaming service is listed below:
YouTube 直播的鏈接如下 :https://youtu.be/v0PvsNg2REw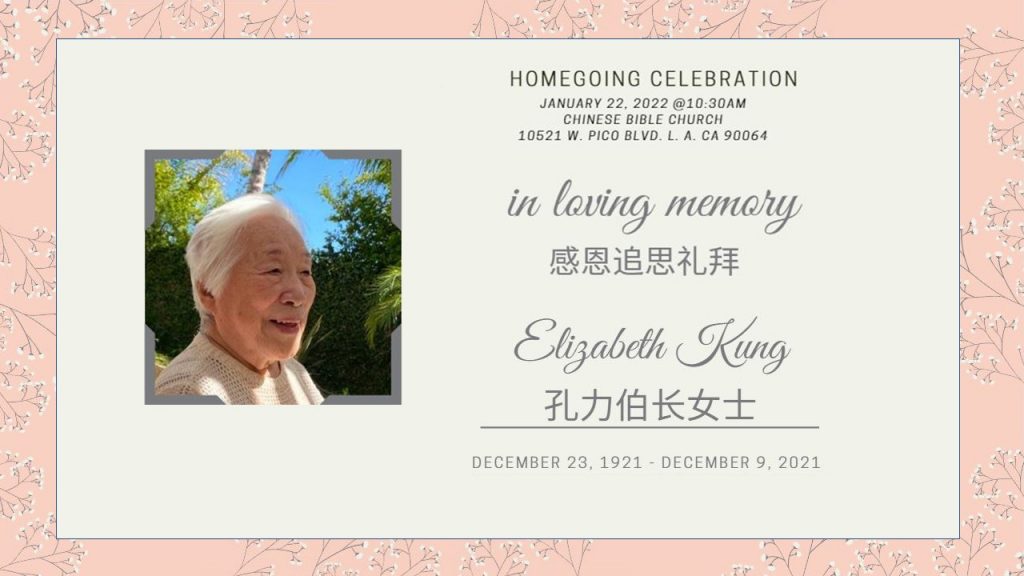 孔媽媽一家非常感謝大家在這段期間的代禱、幫助和愛心支持。若想送花圈金,請直接在網上奉獻給 AWANA 。並請註明 "in memory of Elizabeth Kung"。
The Kung family is truly thankful for everyone's prayer, help and loving support during this trial time. In lieu of flowers, they would like any contribution to be made to AWANA, please specify "In memory of Elizabeth Kung".
來賓簽名/留言簿 Guest Signature Book
孔媽媽家人很高興你能來參加她的追思禮拜,只可惜因為是網路直播,不能見到或當面問候大家。下面是她的來賓簽名/留言簿的鏈接,請各位來賓不要忘記簽名或留言。他們定會一 一閱讀並答謝。
The Kung family is glad that you can attend her memorial service, but unfortunately because it is a live webcast, they cannot see or greet everyone in person. Below is the link to her guest signature book, the family will be delighted to read your messages and thankful to have the opportunity to reach back to you.
https://www.forevermissed.com/elizabeth-kung/tributes
程序及生平簡介 Program Sheet and Eulogy
孔力伯長女士生命的慶典程序及生平簡介
The program sheet and eulogy for Elizabeth Kung's memorial service